I
There used to be a Moulin Rouge at the foot of the Château de Lordat, on the banks of the Ariège.
In the small village of Garanou, it stood all white in the middle of a wood where the willows move,
Built by a wealthy miller who had just married a pretty girl from Sabarthès,
Always turning, always grinding the mill crushed the wheat of the region of Ariéjouès.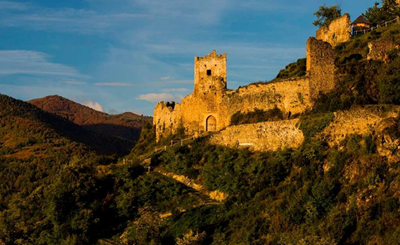 Then one morning in July 1244, it was announced that an army of Crusaders was advancing in the valley,
After the fall of the castle of Montségur the troops plundered the towns and the villages were ransacked,
With a scythe or a pitchfork all the villagers rose up to stop these accursed bandits,
And the rich miller abandoned, not his fortune, but his mill and his beloved Viviane.
uis un matin de juillet 1244,
The wife mourned her husband for a long time and the mill no longer sang its song of work and life,
The adversaries met near the Col de Marmare in the furious Hers valley,
Like lions the Ariègeois threw themselves on the enemies who decimated the daring poor,
Torches lit on the Crête du Chioula the horde sang their songs of victorious war.
The families of the neighborhood, frightened, fled, only the miller, with the valiant heart, remained,
While the sun announced its wheel of light on the valley the troop arrived at the mill of Garanou,
A chief wearing shining embroidery on his head, advanced towards the door and knocked,
No one, at a sign, four soldiers armed with axes lined up in front of the door, standing tall.
Hardly had they raised their arms to drive their weapon into the wood, when a large stone fell,
Launched from the castle of Lordat, it made the soldiers retreat and the legs of two bandits it broke,
Violet with anger, the leader of the Crusaders, with an ax, smashed the door and all in the mill returned,
In a cry of horror, through an open trapdoor in the floor, into the millstones they fell.
And the mill, silent for a few days, began to turn again, to grind,
But instead of grains it was men he crushed! The water of the Ariège quickly turned red,
Outside the men cried revenge, the mill taken, the brutes satisfied their desire for lightning,
Naked and half dead, the beautiful miller was thrown into the millstones and the Ariège turned red again.
Since then, no one wanted to run the mill and it slowly disappeared over time,
On long winter evenings it is said that evenings of glowing moonlight,
Between the old stone bridge of Garanou and the railway bridge of yesteryear,
A beautiful naked young woman comes for a walk on the blood-colored water!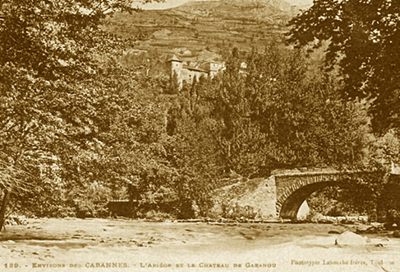 Poetic quatrains by Guy l'Arie…..Joie
Inspired by a text by Jean-Jacques Billeau
He was a "Foix" in Ariège.