C
ORDOUAN, the Loner of the Estuary
Under the summer sky, at the end of the Gironde you are waiting for us,
Cordouan old solitary of the estuary, finger raised on the ocean,
You've been there for 400 years defying the waves and time,
Old seducer every night you wink at Royan.
Dean of the headlights you stay straight as when you were twenty,
Standing on your rock you resisted the ravages of time,
Guiding the sailors with your colored, flashing lenticular fire,
Let your twinkling light flood all sailing ships.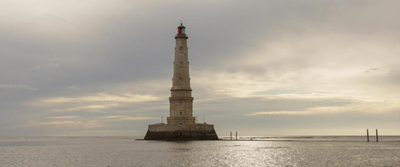 Seven kilometers from any coast, Cordouan has been watching over the estuary for four centuries, in Gironde,
In front of him, the infinite horizon of the Atlantic, on the right, Royan, on the left, Le Verdon-sur-Mer,
Behind him, the mixed waters of the Garonne and the Dordogne, which flow together into the ocean,
And at the very end of this long notch in the western facade of the country, Bordeaux, welcoming.
In its circle around the wall, the soul of the sea knocks at the desperate postern,
It hums, whispers, roars, its waves play with the ancient wooden door,
Sneaking in, bathing the bottom of the stairs in their chop, echoing the vault,
In the perfect circle of the lighthouse courtyard, the keeper pauses for a moment to listen to the classico.
Visitors, after 300 steps, think that 4 centuries of history
contemplate you from the top of Cordouan.