The MIDI CANAL
Black mountain, an inexhaustible water tower to supply a canal, Pierre-Paul Riquet dreamed of it,
Was it still necessary to collect the waters, store them and lead them to the point of natural division,
Between the ocean and the Mediterranean, at the Seuil de Naurouze, a ridge line delimiting the two timeless basins,
Where the waters of the Grave fountain separate themselves and flow in two opposite directions.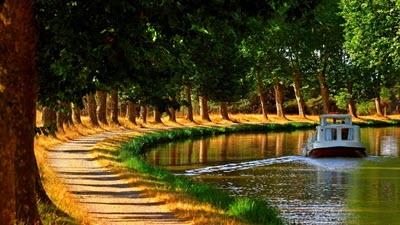 This freshwater artery connecting "the Ocean Sea" to the Mediterranean,
Marries the Lauragais corridor, with a perfectly welded landscape,
It winds harmoniously between the Corbières and the Minervois,
On the green water of the Canal du Midi sung by Nougaro, the Toulouse voice.
Placed in a wonderfully touristic setting and under a mostly mild sky,
The beauty of the landscapes crossed, its natural sites, can be discovered by boat, slowly,
The Canal du Midi could only seduce boaters, a vocation that Riquet could not think of,
By car, by bike, on the towpaths, it's a great promise for travel.
Under the sky which capsizes in its mirror of dormant waters in pause,
The lock keeper's house with its green shutters dozing near the oleanders,
By leaning out of the window to listen to the lock which is flooded with a liberating birth,
The water separated between iron and stone opens a saving passage to continue the adventure towards the tamarisks.
Cross the bridge, pass under the vault of light to shade, and kiss the sky,
Admire a field of sulky sunflowers, a line of trees with rustling foliage,
The water, the boats, the stone walls, the branches caress their changing reflections,
In this cradle of light, the sun plays with terrestrial mystery.
Further on another bridge, like an O embroidered with stones leading to the next lock,
Image of the barge entering and going further, slipping over the water, scratching its back,
Here we live, we explode on a roof, in the shade of the plane trees, the banks sleeping,
Wake up in the wind singing tunes of plenty, as an apology.
This Canal, born in Lauragais, flows endlessly, sometimes hidden in thick and icy fog,
But in summer, under the scorching heat of the sun, he continues his eternal work without stopping,
In homage to thousands of men, courageous builders, passionate workers,
Seconded by the draft horses pulling the crowded carts with great difficulty.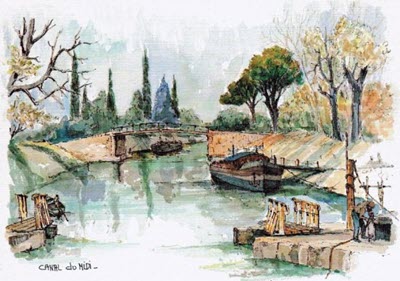 On this fluvial canal from Toulouse to Sète between countryside, hills, towns and villages,
Come, we will sail on this royal road, which we owe to Pierre-Paul Riquet, as a heritage.