Ariège Cuisine
IGNITE THE FIRE
Boil, roast, blanch, sear, simmer, grill, brown, flambé, simmer, braise,
In front of the stove, the grill, the pot, the casserole, these verbs are used to conjugate
The delights of Ariège cuisine, cooked in the fireplace over a wood fire,
From the Mounjetado of coconuts and ingots to Azinat for the joyful peasant hotpot.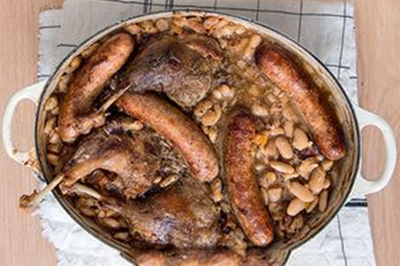 For cassoulet, the Ariégeois are attached to the coudnou, rind sausage,
The duck or goose confit and the belly, pig's belly are generous,
Then come the veal shank, the coustelou of pork chops, rinds,
Fresh sausage browned in the pan and liver sausage in many pieces.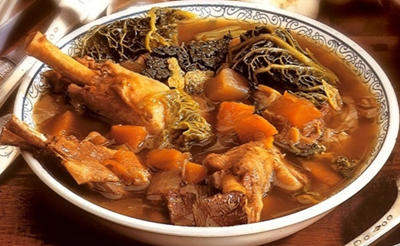 For the azinat the cabbages caress the tongue and in the mouth the broth must slip,
The confit of goose or duck crushes under the tooth by releasing its juice with a salty taste,
Counou rounds fill the mouth with their smooth creaminess,
The coustellou offers itself to the desire of the incisors and the rouzole releases its garlicky flavors.
Gathering all his descendants at parties, this is the pleasure offered by Grandma,
Adding caramel flan, floating islands and gifts as desserts,
Others serving as guest tables hare à la royale or suckling pig stuffed with sweetbreads,
Bringing together all kinds of people who forgot during the meal everything that could separate them.
At the end of the meal, many of them made chabrot, or chabrol in Occitan,
They diluted the little leftover soup at the bottom of the bowl of yesteryear,
By adding a glass of red wine in the colors of claret to the broth,
To bring the dish to the mouth and swallow it in large gulps.